Kevin Buckler And The Racing Series Wine – Switching Gears.
Originally published in Montecristo
Professional race car driver Kevin Buckler likes to ask imbibers to pay careful attention when sipping wine.
"Many times, when we're out with friends or eating dinner, we're not really focusing on the wines we're drinking," he explains. "But if you concentrate as you taste, there's a great chance that you will be able to recognize that specific wine in the future—even months or years later."
Both in life and in the world of wine, mindfulness makes all the difference, Buckler says. "When you breathe in the scent of mint or a pinecone, for example, your memories may instantly take you back to a childhood camping trip or a walk in the woods. So, the next time you're drinking wine, describe it to yourself, and you're sure to remember the notes and flavors."
It's no surprise that the professional driver with a laser-sharp eye for detail possesses a passion for success that transcends the racing world. Over the years, Buckler has experienced over 100 racing victories worldwide, including winning two of the industry's premiere endurance sports car races, the 24 Hours of Le Mans and the 24 Hours of Daytona, where he was a four-time winner. Currently, he runs The Racers Group, a North American motorsports company.
Yet, after his many accomplishments on the track, Buckler decided to switch gears and spend time focusing on his other passion: wine. As a long-time wine enthusiast, Buckler opened Adobe Road winery with his wife, Debra in 2002. The award-winning boutique winery produces 14 small-batch wines (under 7,000 cases a year) and has about 1,200 wine club members.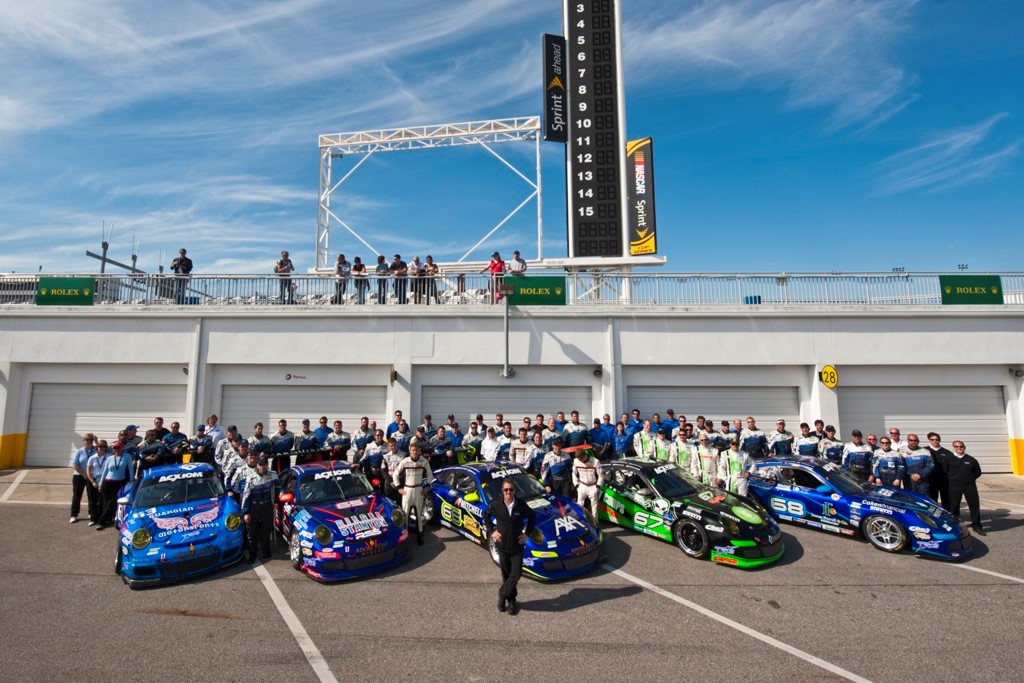 Image courtesy of The Racing Group.
As a self-proclaimed perfectionist with an entrepreneurial spirit, Buckler spent a great deal of effort in determining the types of wines that are produced at Adobe Road. He works closely with Adobe Road's esteemed winemaker, Garrett Martin, to create the winery's variety of premium single-varietals and creative blends. And it's these four new blends, called "The Racing Series," that made their debut last month.
Launched in late January 2019 during Daytona's annual Racing Week, Adobe Road's Racing Series features ultra-premium blends of red wines made with premier grapes from a number of highly-regarded and historic vineyards in Sonoma and Napa Valley, California.
Fittingly, the names of the individual wines, as well as the stylish label designs, reflect distinctive racing terminology. These wines include "Redline," a blend of cabernet sauvignon, zinfandel, syrah, petite sirah and malbec. The bottle features a vintage tachometer that symbolizes Kevin's first victory. With a metal label depicting a gated shifter and cork topped with shift knob, "Shift" is comprised of zinfandel, barbera, grenache, petite sirah and carignane. "The 24" combines grenache, mourvedre, syrah and malbec. The name of this wine refers to the legendary 24 hour endurance race events at Daytona and Le Mans. The most exclusive of these four bottles is "Apex," a blend of cabernet sauvignon, syrah, merlot and petite sirah. This bottle showcases a sophisticated yet simple, metal apex curve.
Adobe Road is currently on an aggressive growth path and showing distinct signs of, well, speeding up. It is located in the charming riverfront town of Petaluma, California, which is currently in the midst of a revitalization. This has been accelerated by the Petaluma Gap's recent 2017 designation as an official American Viticultural Area (AVA), as it is considered an exceptional location to grow pinot noir, syrah and chardonnay grapes.
Buckler is presently involved in building the company's new 15,000-square-meter, two storey winery, an innovative concept that will be located on the water in the center of town. In addition to housing the winery and its new, cutting-edge production equipment, it will feature an expansive tasting room, a visitors' center, and indoor-outdoor areas with fire pits. It will also house a ballroom and several larger spaces, which, according to Buckler, will be a welcomed addition to the city that's currently lacking locations for large events. Set to open within a year, it will also showcase a state-of-the-art automotive museum to celebrate the world of racing.
Explaining why he chose to take the proverbial road less traveled and decided not to build the new winery in California's established wine country, Buckler says, "Instead of basing our new Adobe Road winery in Napa, we chose our hometown of Petaluma. And Petaluma is hot right now. If Austin, Texas and Napa Valley had a love child, it would be Petaluma. It's located in an ideal spot at the entrance to wine country—and it's also the nearest to San Francisco. We're incredibly excited about it."
As someone who knows how it feels to win a coveted racing championship, Buckler has also experienced plenty of ups and downs in both industries over the years. To keep motivated, he applies similar principles to the racing world and the wine business. "Don't give up, because what wins you the race is actually losing the race," he says. "Study the things that can take you down and fix them. Shore up your weaknesses so you're prepared. Don't be distracted by what everyone else is doing. Focus on your own work, pay attention to what's important, and you're bound to succeed." Driven by passion, Buckler continues to reach for the stars.